Comment count:

0
Krka Waterfall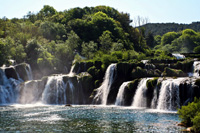 The Park lies in a wonderful valley to the north from Sibenik. The Krka river flows among rocks and it has built interesting terraces. The deposited limestone appears in the form of stairs laces where the creek seethes further. The flora and fauna of the wonderful valley are also individual.
We are talking about one of the richest, most wonderful and most valuable natural area of Europe the environment of which is valuable from the aspect of monuments as well.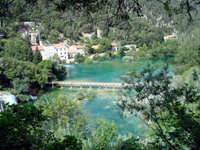 KRKA - There are the archaeological findings from the Roman era and the Middle Ages but it is proven that people lived here already in the Paleolithic. Monasteries and the ruins of castles decorate the hills embracing the National Park all around.
There is no car traffic in the park, the visitors are taken by regular bus lines to the valley. If you park your car at the entrance at Skadrin, then you can arrive at the great waterfall or if you start from the car park at Lozovac, then you can access the waterfalls either by bus or on foot.