Comment count:

1
Plitvice Lakes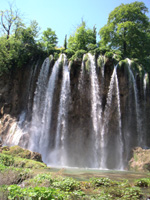 They belong to the most beautiful sights of Europe, located in a valley and surrounded by hills covered with woods.
The highest-lying lake of the system of lakes can be found at a height of 600 m and the water, stepping out of it bed and taking an adventure-ride all over innumerable torrents, over a distance of 7,2 km, arrives at the last lake lying at a height of 150 m. The water tramps over the series of 3-50m-high torrents in branches reaching away into various directions and the water of one lake flows into the other lake in this way. The two smaller lakes - lying like stairs - of Plitvice Lakes are connected by 92 waterfalls.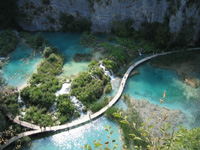 The Plitivce Lakes were declared National Park in 1949 and in 1979 the region was taken by UNESCO in the list of world heritage. Several protected animals live on its area: beers, wolves, otters, wood stock-owl. The tourist load of the park and almost 2000 employees insured the creation of an attractive park and well-maintained service facilities look forward to the visitors.
The exceptional sights of the Park are the karst caves, the Large Cave, the Black Cave and the Tomin Tree Cave.