Comment count:

0
Zadar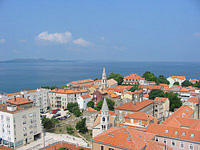 Zadar is also called "the little Rome of Croatia" - owing to the almost 3000-year history of the town, its exceptional sacral buildings and multi-coloured system of cultural traditions.
There are innumerable sights in the town, some of them from the antiquity. A part of the town wall was built by the Romans and another one was made in the Middle Ages. Most parts of the wall goes back to the 16th century.
The most famous sights of the town are the Citadel, the Saint Franz Church, and the pearl of Roman architecture in Dalmatia, the Anastasia Church. Its most famous church was built upon the order of Donate Archbishop at the start of the 800's.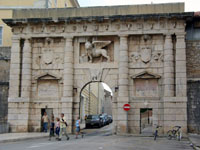 Next to it, the sanctuary and tower of the Saint Anastasia Cathedral can be found.
The world-famous urban values of Zadar are completed more by the picturesquely sectioned shore parts of the more than 1000 km-long Zadar Riviera, with clear-watered bathing shores and around 300 smaller and larger islands.
Zadar is also the closer country of origin of the Maraschino liqueur made of the flavoursome fruits of the sour cherry plantations and also the world-famous Croatian basketball players.